Watched Dhobi Ghat yesterday. And loved it.
I know there are quite a few complaints against the film that it doesn't have a story or that it is an out and out art film etc. And by saying that I love the film, I don't want to pretend to be all high-brow and all (My favourite Bollywood film is Om Shanti Om, for God's sake! :P) but this film was a real pleasure to watch even if it didn't conform to the popular cinema frame and didn't really even have a story in it's conventional beginning-middle-end structure.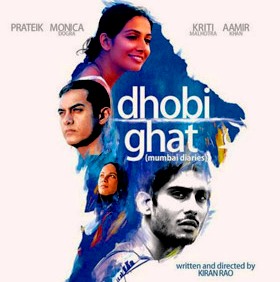 However, I must state here that it's a personal choice and opinion and this kind of cinema does not appeal to a lot of people's tastes. So, I am not going to give recommendations or rating for this one. The film claims to be "Mumbai Diaries" and I agree about the Diaries part. The film is a story of four random people from Mumbai. They could have been from anywhere in the world. It is about what relationship these four people have with each other. It is about an interesting part from the lives of these four people. Not their whole life story. Not a great saga of lovers or of a family or of a nation or of a city. Just a piece of four people's lives and about their dated relationships with each other, only a matter of chance. Arun (Aamir Khan) is a very famous painter in Mumbai. Shai (Monica Dogra) is an investment banker by profession and a photographer by heart, who has come to Mumbai from New York for a short period of time. Munna (Prateik) is a wanna-be actor, who works as a washer-man while trying to make it big in the B-town. And Yasmin is the previous tenant of the house that Arun lives in. She came to Mumbai from UP with her husband.
Also, like in Peepli [Live], the film-making techniques have been experimented with and there are segments where the narrative has come out through alternative medium, like, home-made videos, photographs and paintings. Also, Mumbai is seen through the eyes of all kinds of people - Mumbaiites, tourists, new residents.
Aamir Khan, the method actor, is brilliant and impeccable as always. The new comers are all good as well. The cinematography was one of my favourite things about the film. Oh, and it's length. :P 95 minutes is good for a film. ;)
One tiny thing: according to some facebook updates, the film should have made me feel my Mumbai within me and God knows what else. While I love Mumbai and I think films based in Mumbai are awesome, especially if they try to capture the city and give it a character, like Kiran Rao tried to do, I still didn't feel anything strong. It was there, a Mumbai-ness to it. But, it was a sort of new-Mumbai-ness. Not an inherent Mumbai-ness, which would have made my nostrils flare up as soon as the
attar
(perfume) shop scene or the
pav-bhaaji thela
(the pav bhaji stall) scene came on. Like a borrowed Mumbai-ness. Or an adopted Mumbai-ness. I don't know if it was me or the film. But, I didn't feel the "Mumbai Diaries" title was justified well enough.
Apart from that, I just loved every bit of it. :)
* Pictures courtesy google images.